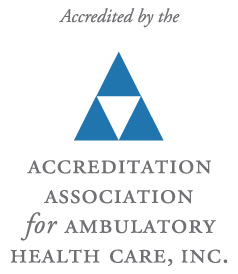 In December of 2011 Connie, from Sonography Now, attended a training provided by the Accreditation Association for Ambulatory Health Care. It was held in Las Vegas, NV, so it was easy for me to attend. I was joined by an Executive Director who had a desire to see what accreditation is all about. With the two of us in attendance, it was a good combination to see and hear from two sets of eyes and ears, and two clinic perspectives, how the accreditation process would apply to a Pregnancy Medical Clinic ("PMC") setting.
The course is offered in preparation for initial accreditation or reaccreditation to those clinics who desire AAAHC accreditation. It was a great course in both material and format. The materials are very easy to navigate and the process for getting it done appears to be very do-able for those who are interested in doing the preparation themselves.
The format for the course was to meet in a large group for one third of the time we had together and the remaining two thirds were spent with two Group Facilitators. In our small group, they were both physicians, and we were given ample time to discuss our clinical settings specifically. I was in with a Fertility Clinic, an Anesthesiology Group and a Vein Institute, so the variety was good and beneficial to me to hear.
In working through the training materials with the small group leaders as well as the General Session Instructors, I would like to share with you the content of the course that may be beneficial for you. The core chapters consisted of;
• Rights of Patients
• Governance
• Administration
• Quality of Care Provided
• Quality Management and Improvement
• Clinical Records and Health Information
• Infection Prevention and Control and Safety
• Facilities and Environment
An adjunct chapter that would benefit the PMC is;
• Diagnostic and Other Imaging Services
The list I've shared above does not include all that they teach, but it is an overview of what Sparrow Solutions Group [formerly Sonography Now] feels may interest the PMC and it serves as a list to have a discussion about. If you'd like to discuss this with Connie, feel free to call her directly at 702-556-1101.
We look forward to working with you in future endeavors. Our focus in (is?) on-site education and continues to be the focus of what we do. Having taken this training, we are the only Ultrasound Training Company that has attended an AAAHC Achieving Accreditation seminar and are therefore positioned to keep you up to the level of service you desire.
This article has been reviewed and approved by the Accreditation Association for Ambulatory Health Care (AAAHC).